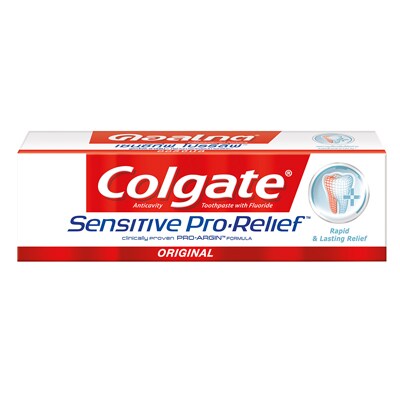 COLGATE® SENSITIVE PRO-RELIEF
Provides clinically proven, everyday protection from painful sensitivity.
Active ingredients

Sodium Monofluorophosphate 0.76%


Ingredients

Calcium Carbonate, Water, Sorbitol, Arginine Bicarbonate, Hydrated Silica, Sodium Lauryl Sulfate, Flavor, Cellulose Gum, Sodium Monofluorophosphate, Sodium Bicarbonate, Tetrasodium Pyrophosphate, CI77891, Benzyl Alcohol, Sodium Saccharin, Xanthan Gum.


Pro-Argin™ Technology works through a natural process of dentin tubule occlusion that attracts arginine and calcium carbonate to the dentin surface to form a protective seal that provides instant relief.2

*Instant relief is achieved with direct application of toothpaste massaged on sensitive tooth for 1 minute.
Related Products
Colgate® 360°® Toothbrush

Features, mode of action, and proof of efficacy of the Colgate® 360°® toothbrush

View product

»

Colgate® Slimsoft™ Toothbrush

About Slim Soft™ and how it works

View product

»

Colgate Plax™ Mouthwash

Information about Colgate® mouthwashes for your patients

View product

»