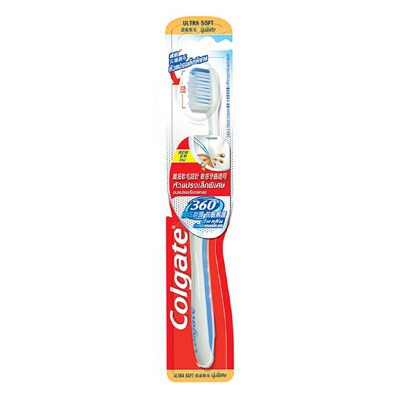 Colgate® 360°® Toothbrush
Designed for a whole-mouth clean, Colgate® 360°® uses a unique head design to clean teeth, cheeks, and tongue for a whole-mouth clean.
Soft-textured tongue cleaner

Soft polishing cups
Cushioned thumb grip

The toothbrush reaches interproximally, and along the gingival margin, to remove plaque. Its unique head design helps clean teeth, tongue, cheeks, and gums for a whole-mouth clean. And a textured tongue and cheek cleaner removes odor-causing bacteria.


A clinical comparison of the gingivitis reduction and plaque-removal efficacy of a new manual toothbrush.

Nathoo S, Chaknis P, Petrone M, DeVizio W, Volpe AR.

Results
The results of the study indicated that the new manual toothbrush was statistically significantly effective in reducing gingivitis after 4 weeks and in removing plaque after a single toothbrushing and after 4 weeks of use. Also, the group using the new manual toothbrush exhibited a statistically significant greater reduction in plaque of up to 40% and no statistically significant difference in gingivitis reduction after 4 weeks of use, as compared to a manual toothbrush with angled bristles.

Related Products
Colgate® Slimsoft™ Toothbrush

About Slim Soft™ and how it works

View product

»

Colgate® 360°® Toothbrush

Features, mode of action, and proof of efficacy of the Colgate® 360°® toothbrush

View product

»

Colgate Total® Toothpaste

About one of the most extensively tested and researched toothpastes in the world. Ingredients, mode of action, and proof of efficacy of Colgate Total.

View product

»

Colgate® Optic White® Toothpaste

About Optic White® toothpaste and how it works Ingredients, mode of action, and proof of efficacy of Colgate® Kids toothpaste

View product

»